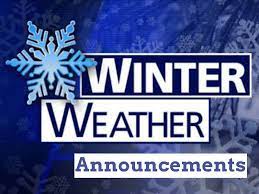 By: Matt Scher, [email protected]
Humboldt, IA – Area events scheduled for the latter half of this week are being pushed back to later dates in anticipation of the winter storm on Thursday into Friday.
The Humboldt Schools Soup & Song concert originally scheduled for Thursday, Mar. 9 will be now held on Tuesday, Mar. 14. The event is a free will donation soup supper from 5:00-6:30 p.m. and a concert at 7:00 p.m.
Kindergarten Round-Up at Mease Elementary has been rescheduled to Friday, Mar. 17. Weather permitting, current kindergarten students will attend school this Friday, Mar. 10. The School says for families of current kindergarteners to plan on NO school on Friday, Mar. 17. There is still time to sign up for kindergarten round up and 4 year-old preschool. Contact Mease Secretary Lacey Casady to do so.