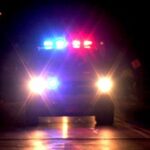 By: Matt Scher, [email protected]
Fort Dodge, IA – A stabbing in Fort Dodge has left two people injured and a person of interest at-large.
At approximately 7:37 p.m. Wednesday, the Webster County Telecommunications Center received a call stating that there was a stabbing at 1725 17th St S.W., with the victims on their way to Unity Point Trinity Regional Hospital. Upon further investigation, it was determined that an altercation had taken place at the residence involving three subjects. As a result of this altercation, two of the subjects suffered stab wounds.
At this time investigators are attempting to locate 21-year-old Dayshon L. Hurtt of Fort Dodge for questioning regarding this incident. Anyone with information regarding the whereabouts of hurtt are encouraged to contact the Police Department.
The Fort Dodge Police Department was assisted the Webster County Sheriff's Office, and the Webster County Attorney's Office.