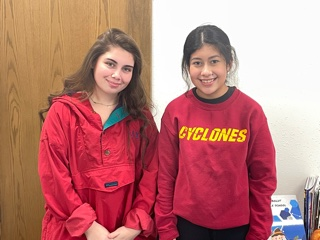 Haley Satern on the left. Esmeralda Tejeda on the right.
By: Donovan W. Mann – donovanm@977thebolt.com
Humboldt, IA – The Humboldt Community School District Board of Education adds on two high school students as members.
As previously reported by KHBT the school district had discussed the idea of adding two nonvoting members to their board. Superintendent Jim Murray had put out the application process to the high school and put together the committee to select the two students.
Murray tells KHBT that Haley Satern and Esmeralda Tejeda are the two students who will represent the students on the board of education because of the ideas included in their essays. The superintendent re-enforced the stance that the committee was not making their decisions based on grammar and spell but content and ideas. They were looking for specific ideas that could be implemented immediately. Murray says that Satern addressed the need for drug free education. Tejeda mentioned making sure that "English language learners" and the Hispanic population had the proper service to help them be successful.
Haley Satern is a sophomore at Humboldt High School and talks about her goals as a student representative on the board. "Well I'm really excited to be apart [of the board]" she says. She looks forward to being a voice for her classmates and says there is "a lot things she thinks need to be brought to light." The first things she mentioned were the lunches offered at the school. Satern calls it a "big part of going to school" and recognizes for some students it could be the only meal they get in a day. Ultimately she wants to keep school a safe place for everyone.
Esmeralda Tejeda is a senior at Humboldt High and talks about her goals as a student representative on the board. "When I first found out I was really excited" she says. Her goal is to make an impact for all students in the Humboldt CSD. She wants to help all kinds of diversity in the community and "help those students that maybe are struggling with their English." Tejeda wants them to have all the help they need to be successful.
Both Satern and Tejeda have officially began serving their terms on the board. Their term will come to a close in June 2021. Superintendent Murray says the plan will be to put out the application process and select two new students to the board who will start in July.
(Being a current sophomore Satern is permitted to rejoin the board in the next school year but will have to reapply. Tejeda will graduate at the end of the school year and be ineligible as a result).